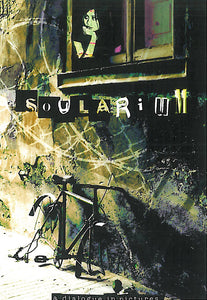 Just as sunlight illuminates a solarium, Soularium opens a window to the soul.
Because images connect deeply with our emotions, they enable us to engage in meaningful conversations about life and God. With Soularium you'll discover just how easy and enjoyable it is to come alongside someone on their journey.
Soularium is the perfect tool when talking with students, neighbors, co-workers, friends and family––anyone you want to connect with spiritually on a deeper level.
What people are saying about Soularium:
"It's a barrier breaker when it comes to talking about spiritual things. It puts everyone on the same page."
"I have been able to learn things about friends that I never knew and encourage them to really think deeper about their faith and spiritual life."
Soularium provides 50 images and five simple exploring questions that allow the user to engage in one-on-one or group spiritual conversations with non-believers.
The questions explore the desire of non-believers for their spiritual journey and create many bridges to dialogue about Jesus. Easy to use with random contacts, classmates/colleagues, and friends. Responses can be entered online in a website (mysoularium.com) that allows you (and the people you talk to) to discover what other people are thinking.